2002 Cdc Water Quality Violations
Download original document: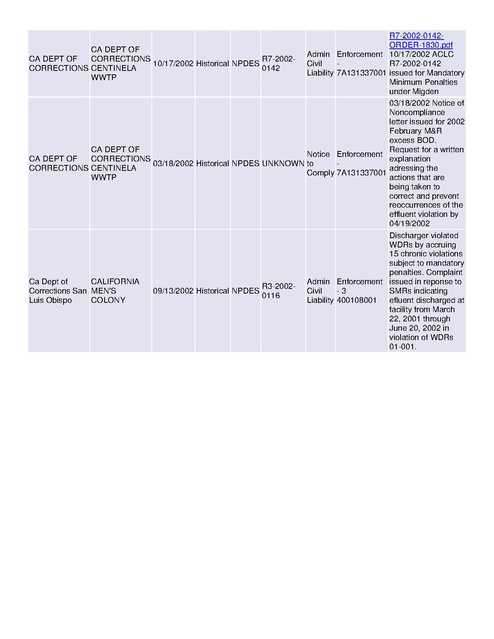 Document text
This text is machine-read, and may contain errors. Check the
original document
to verify accuracy.
CA DEPT OF
CA DEPT OF
CORRECTIONS
R7-200210/17/2002 Historical NPDES
CORRECTIONS CENTINELA
0142
WWTP

Admin Enforcement
Civil
Liability 7A131337001

CA DEPT OF
Notice Enforcement
CA DEPT OF
CORRECTIONS
03/18/2002 Historical NPDES UNKNOWN to
CORRECTIONS CENTINELA
Comply 7A131337001
WWTP

Ca Dept of
CALIFORNIA
Corrections San MEN'S
Luis Obispo
COLONY

09/13/2002 Historical NPDES

R3-20020116

Admin Enforcement
Civil
-3
Liability 400108001

R7-2002-0142ORDER-1830.pdf
10/17/2002 ACLC
R7-2002-0142
issued for Mandatory
Minimum Penalties
under Migden
03/18/2002 Notice of
Noncompliance
letter issued for 2002
February M&R
excess BOD.
Request for a written
explanation
adressing the
actions that are
being taken to
correct and prevent
reoccurrences of the
effluent violation by
04/19/2002
Discharger violated
WDRs by accruing
15 chronic violations
subject to mandatory
penalties. Complaint
issued in reponse to
SMRs indicating
efluent discharged at
facility from March
22, 2001 through
June 20, 2002 in
violation of WDRs
01-001.