2004 Cdc Water Quality Violations
Download original document: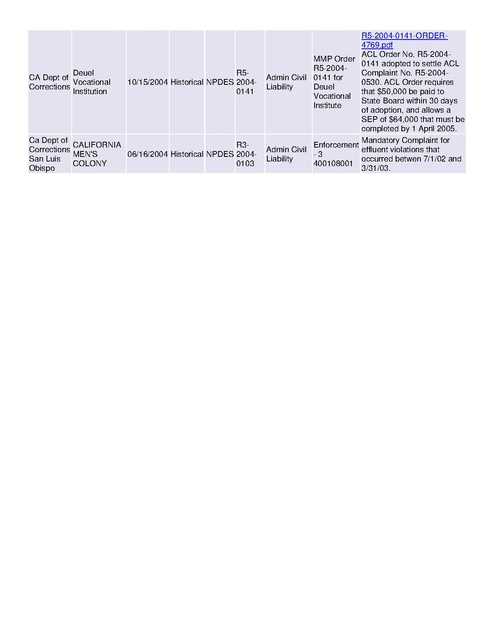 Document text
This text is machine-read, and may contain errors. Check the
original document
to verify accuracy.
Deuel
CA Dept of
Vocational
Corrections
Institution

R510/15/2004 Historical NPDES 20040141

Ca Dept of
CALIFORNIA
R3Corrections
MEN'S
06/16/2004 Historical NPDES 2004San Luis
COLONY
0103
Obispo

R5-2004-0141-ORDER4769.pdf
ACL Order No. R5-2004MMP Order
0141 adopted to settle ACL
R5-2004Complaint No. R5-2004Admin Civil 0141 for
0530. ACL Order requires
Liability
Deuel
that $50,000 be paid to
Vocational
State Board within 30 days
Institute
of adoption, and allows a
SEP of $64,000 that must be
completed by 1 April 2005.
Mandatory Complaint for
Enforcement
effluent violations that
Admin Civil
-3
Liability
occurred betwen 7/1/02 and
400108001
3/31/03.