2005 Cdc Water Quality Violations
Download original document: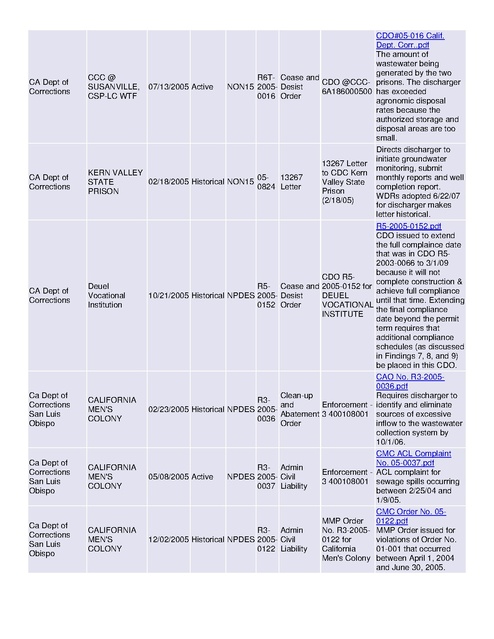 Document text
This text is machine-read, and may contain errors. Check the
original document
to verify accuracy.
CA Dept of
Corrections

CA Dept of
Corrections

CA Dept of
Corrections

Ca Dept of
Corrections
San Luis
Obispo

Ca Dept of
Corrections
San Luis
Obispo

Ca Dept of
Corrections
San Luis
Obispo

CDO#05-016 Calif.
Dept. Corr..pdf
The amount of
wastewater being
generated by the two
CCC @
R6T- Cease and
CDO @CCC- prisons. The discharger
NON15 2005- Desist
SUSANVILLE, 07/13/2005 Active
6A186000500 has exceeded
CSP-LC WTF
0016 Order
agronomic disposal
rates because the
authorized storage and
disposal areas are too
small.
Directs discharger to
initiate groundwater
13267 Letter
monitoring, submit
KERN VALLEY
to CDC Kern
05- 13267
monthly reports and well
02/18/2005 Historical NON15
STATE
Valley State
0824 Letter
completion report.
Prison
PRISON
WDRs adopted 6/22/07
(2/18/05)
for discharger makes
letter historical.
R5-2005-0152.pdf
CDO issued to extend
the full complaince date
that was in CDO R52003-0066 to 3/1/09
because it will not
CDO R5complete construction &
Deuel
R5- Cease and 2005-0152 for
achieve full compliance
Vocational
10/21/2005 Historical NPDES 2005- Desist
DEUEL
until that time. Extending
Institution
0152 Order
VOCATIONAL
the final compliance
INSTITUTE
date beyond the permit
term requires that
additional compliance
schedules (as discussed
in Findings 7, 8, and 9)
be placed in this CDO.
CAO No. R3-20050036.pdf
Clean-up
Requires discharger to
CALIFORNIA
R3and
Enforcement - identify and eliminate
02/23/2005 Historical NPDES 2005MEN'S
Abatement 3 400108001 sources of excessive
COLONY
0036
Order
inflow to the wastewater
collection system by
10/1/06.
CMC ACL Complaint
No. 05-0037.pdf
CALIFORNIA
R3- Admin
Enforcement - ACL complaint for
MEN'S
05/08/2005 Active
NPDES 2005- Civil
3 400108001 sewage spills occurring
COLONY
0037 Liability
between 2/25/04 and
1/9/05.
CMC Order No. 05MMP Order
0122.pdf
CALIFORNIA
R3- Admin
No. R3-2005- MMP Order issued for
MEN'S
12/02/2005 Historical NPDES 2005- Civil
0122 for
violations of Order No.
COLONY
0122 Liability
California
01-001 that occurred
Men's Colony between April 1, 2004
and June 30, 2005.