CA DJJ Summary Education Program Report 2006 - 2007, ORourke, 2007
Download original document: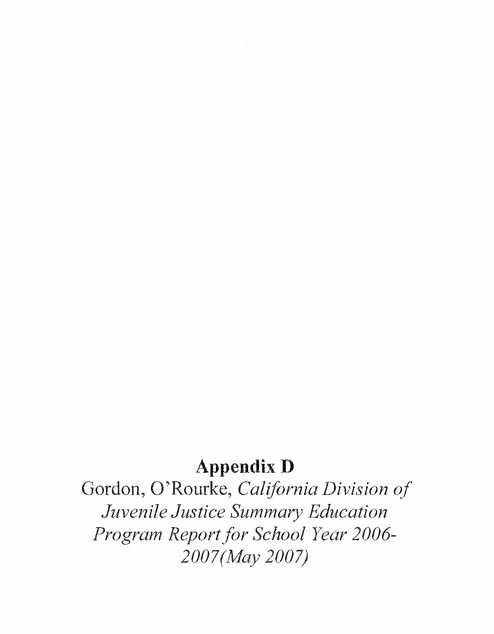 Document text
This text is machine-read, and may contain errors. Check the
original document
to verify accuracy.
Appendix D
Gordon, O'Rourke, California Division of
Juvenile Justice Summary Education
Program Report for School Year 20062007 (May 2007)

California Division of Juvenile Justice Summary Education Program Report
for School Year 2006-07
Section I. Introduction
Background
During December 2002, Mr. Stephen Acquisto, Deputy Attorney General, California Department of
Justice contacted Dr. Tom O'Rourke and Dr. Robert Gordon to conduct a review of the California Youth
Authority educational program with two objectives: 1) to evaluate the CYA general and special
education programs based on thirteen areas of inquiry; and 2) to provide specific co1111nents and
recon1mendations regarding the current status of the educational progra1n in each of the areas of review.
The DJJ Education Branch used the findings of this review and other information to develop the
education section of the Consent Decree Remediation Plan (dated March 1, 2005). There were six major
sections in the Education Services Remedial Plan:
I.
II.
III.
IV.
V.
VI.

Overview, Pbilosophy, and Program Policy
Staffing
Student Access and Attendance
Curriculum
Special Education I Record Keeping
Access to State Mandated Assessments

Review Process:
The Consent Decree required that a specific monitoring process for the Education Services Remedial Plan
be established and implemented that directly monitored and measured compliance with and progress
towards meeting implementation of decree requirements by the CYA. Dr. Tom O' Rourke and Dr.
Robert Gordon were asked to develop standards for monitoring and to conduct site visits using a
standardized monitoring instru1nent.
The reviewers have condncted site visits during two monitoring cycles, from September 2005 through
March 2006 and from September 2006 through April 2007, at the following DJ.J operated schools:
DJJ High School
James A. Wieden High School
& Sacramento Parole School
Johanna Boss High School
DeWitt Nelson High School
N. A. Chaderjian High School
Marie C. Romero High School
Mary B. Perry High School
Lyle Egan High School
Jack B. Clarke High School

DJJ Youth Correctional Facility
Preston Youth Correctional Facility &
Sacra111ento Parole
0. H. Close Youth Correctional Facility
DeWitt Nelson Training Center
N. A. Chaderjian Youth Correctional Facility
El Paso de Robles Youth Correctional Facility
Ventura Youth CoJTectional Facility
Heman G. Stark Youth Correctional Facility
Southern Youth Correctional Reception and Center Clinic

Initial visits were announced and communicated to the Education Services branch and the sites being
visited.