Fbop Mxr Monthly Report 1996nov
Download original document: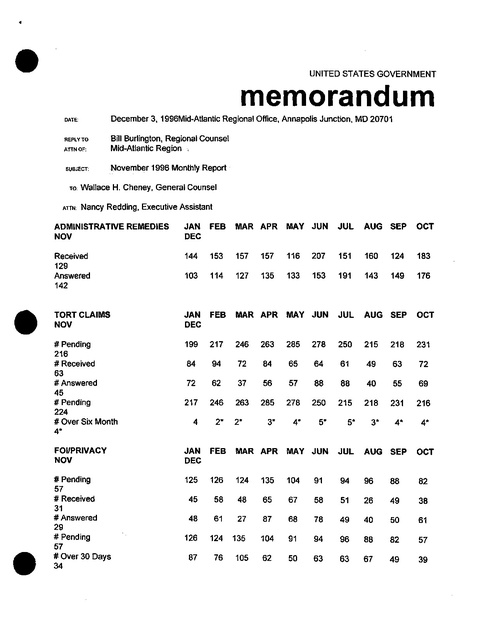 Document text
This text is machine-read, and may contain errors. Check the
original document
to verify accuracy.
•

UNITED STATES GOVERNMENT

memorandum
DATE:

December 3, 1996Mid-Atlantic Regional Office, Annapolis Junction, MD 20701

REPLY TO

Bill Burlington, Regional Counsel
Mid-Atlantic Region.

ATTN OF:

SUBJECT:

TO;

ATTN:

November 1996 Monthly Report '

Wallace H. Cheney, General Counsel
Nancy Redding, Executive Assistant

ADMINISTRATIVE REMEDIES
NOV

JAN FEB MAR APR MAY JUN JUL
DEC

Received
129
Answered
142

144

153

157

157

116

207

151

160

124

183

103

114

127

135

133

153

191

143

149

176

TORT CLAIMS

JAN FEB MAR APR MAY JUN JUL
DEC

AUG SEP OCT

NOV
# Pending

199

217

246

263

285

278

250

215

218

231

84

94

72

84

65

64

61

49

63

72

72

62

37

56

57

88

88

40

55

69

217

246

263

285

278

250

215

218

231

216

4

2*

3*

4*

5*

3*

4*

4*

216
# Received
63
# Answered
45
# Pending
224
# Over Six Month
4*

2*

5*

AUG SEP OCT

FOI/PRIVACY
NOV

JAN FEB MAR APR MAY JUN JUL

# Pending

125

126

124

135

104

91

94

96

88

82

45

58

48

65

67

58

51

26

49

38

48

61

27

87

68

78

49

40

50

61

126

124

135

104

91

94

96

88

82

57

87

76

62

50

63

63

67

49

39

57
# Received
31
# Answered
29
# Pending
57
# Over 30 Days
34

AUG SEP OCT

DEC

105

LITIGATION
NOV

JAN FEB MAR APR MAY JUN JUL
DEC

AUG SEP OCT

311
322
314
310
297
301
291
277
279
296
Cases Pending
285
34
12
17
18
13
26
13
32
12
8
New Cases Received
17
12
2
5
13
13
5
8
5
3
22
Habeas Corpus
10
13
11
3
6
4
4
6
4
4
5
Bivens
2
4
1
3
4
1
2
2
0
4
1
FTCA
3
0
1
1
2
3
1
5
0
0
2
Other
2
11
4
8
4
26
9
5
10
11
19
Cases Closed
6
314
301
311
322
310
297
285
Cases Pending
279 296
291
278
21
18
17
20
13
13
17
15
16
22
Lit Reports Completed
23
2
Cases/Hearings or Trials
1
0
0
0
0
0
0
0
0
1
1
Settlements/Awards
1
2
2
1
0
0
0
0
0
0
$150
$ Settlements/Awards
$1.5
0$500.15 $ .53 $.15
0
0
0
0
0
($ in Thousands)
·We are in the process of obtaining settlement approval from the Central Office for these
claims.

ITEMS OF INTEREST, PERSONAL LEAVE, BUSINESS TRIPS, MOVES, ETC.
We are celebrating Carolyn Lanphear"s successful completion of the Paralegal Training
Course , and in particular, her outstanding academic performance. Carolyn will be going
to FCI Cumberland, January 19, 1997, where we are certain she will continue to excel.
Bill Burlington, Regional Counsel, attended the Captains Meeting at FCI Beckley
December 2-5, 1996. Also, Mr. Burlington will be using 60 hours of use or lose annual
leave this month.
Debbie Munson, Attorney, FCI Beckley , will be on annual leave December 23-27, 1996.
Joe Tang , Attorney, FMC Lexington, will be on annual leave December 25-January 3,
1997.
Kathy Harris, Paralegal, MARO, will be on annual leave December 23-December 31,
1996.
Randy Smith, Paralegal, FCI Ashland, will be on annual leave December 26-27, 1996.
Randi Everett, Legal Tech, USP Terre Haute, will be on annual leave December 23-27;
and Bob Blackburn, Legal Tech, USP Terre Haute will be on annual leave December
11-13.
SITUATION OF INTEREST, CONTACT WITH FEDERAL BENCH, HAZARDOUS
WASTE SITES, ETC.:
Ensign Amendment - FCI Cumberland: Inmate Keith Maydak has filed a First
Amendment challenge to the Ensign Amendment. While the Bureau had not begun
implementation of this amendment, Warden Bidwell informed the inmate population about
the impact of the amendment on the Bureau, and upon an inmate's ability to receive
sexually explicit publications. Within 10 days of Warden Bidwell's memo, inmate Maydak
filed suit challenging on First Amendment grounds, his inability to receive future
publications that are not obscene. We have 60 days to respond, but would appreciate any
input regarding the Bureau's response to such suits.
Prison Litigation Reform Act: I have sent instructions to all legal staff in this region that
we cannot simply disregard the kind of court orders we are now regularly receiving from
the 4th and 7th Circuits. In these orders the inmate has signed a consent form authorizing
staff to make monthly withdrawals from the commissary account. The court then orders
us to calculate the amount the inmate owes and send it to the court on a monthly basis.
At a minimum, I am instructing staff they need to monitor these cases very closely to
insure the inmate is given staff assistance in calculating how much he owes, and clear
directions on steps he needs to take to comply with the court order. My comments on the
December Executive staff paper urge that we involve staff much more in this process, as I
see potential for the Bureau receiving negative feedback from both courts and Congress if
we continue to take a hands off approach .
SUBSTANTIVE PLEADINGS (COMPLAINT, MOTION FOR SUMMARY JUDGMENT,
ETC.): None
SETILEMENTS: None
ADVERSE DECISIONS OR SIGNIFICANT DECISIONS:

Fel Butner - Rish v. Johnson - We recently received a denial of our second Motion for
Summary Judgment in this case. Inmate Rish, along with two other former Butner
inmates, allege they were exposed to HIV and Hepatitis B, when Butner staff failed to
provide them with appropriate protective gear in connection with their work as inmate
orderlies in the hospital unit. As part of our motion we raised Qualified Immunity, and
Section 803 of the PLRA, which requires proof of physical injury before you have a
remedy for emotional damages. The Court ruled that the PLRA could not apply to this
case as it was filed in 1993. We urged that applying section 803 was not a retroactive
application of the statute, as the provision deals with the remedies that are available. We
also urged dismissal based on qualified immunity. You will be receiving an appeal
recommendation from us in the near future.

FCI Memphis - Coley v. Burkhart, Civ. No. 95-2355-D/A
Inmate Coley filed a Bivens action alleging disparate treatment in the
granting of bedside visits and funeral trips. The defendants had placed
before the court several arguments including qualified immunity and
failure to establish a racially discriminatory motive. In rejecting Warden
Burkhart's argument that he was entitled to qualified immunity, the Judge
determined the inmate sufficiently alleged a violation of a clearly
established right under the Fourteenth Amendment's Equal Protection
Clause. She then found the Warden's denial of these allegations, to be an
issue of fact material to the resolution of the issue; thus concluding that
the Warden was not entitled to qualified immunity. An appeal
memorandum has been prepared in this case.
UPDATE ON CASES, TRIALS OR HEARINGS, ETC. NOTED IN PRIOR
REPORTS:

FPC Alderson - Leacock V' Reno - Plaintiff is a black medical doctor who
was dismissed for poor work performance while still a probationary
employee at FPC Alderson. The court granted the United States' Motion
for Summary Judgment on the theories of disparate impact and retaliation
and denied the Motion on the discriminatory discharge and disparate
disciplinary treatment. A settlement could not be reached and the case
was argued before a seven-person jury and lasted for six days. An order
was entered November 7,1996, from the U.S. District Court for the
Southern District of West Virginia at Bluefield, in favor of plaintiff and
against the U.S. in the amount of $30,000. Subsequent to the jUdgment,
motions for attorneys' fees and costs totaling approximately $97,000 were
filed. Plaintiff also seeks equitable relief by way of cancellation of the
repayment of his physicians comparability allowance and moving
expenses, which together total more than $9,000. Objections to plaintiff's
petition for attorneys fees and costs have been filed. We will not be
recommending an appeal, as we see this as a case where the jury wanted

to give the plaintiff something . Additionally, a post trial Motion for a New
Trial and/or Remitter pursuant to Rule 59 was filed on November 18,
1996. The time period for filing a Notice of Appeal ends on January 6,
1997.
FCI Milan - Toyee v. Reno, 95-CV-40150-FL, received notice that plaintiff
has filed notice of appeal with the 6th Circuit. This an a former Milan
employee alleging he was terminated based on his national origin (Iraqi).
The case was dismissed on motion for summary judgment by the District
Court.
REPRESENTATION NOT RECOMMENDED FOR STAFF:
Nomar v. Reno. et aI., 96-176, E.D. Ky., FCI Ashland
Last month we reported that we were not recommending that Ashland
Correctional Officer Williams be represented by the Department, based on
a local SIS investigation which confirmed Officer Williams called inmate
Nomar's wife a whore. We learned recently that the Department elected
to represent Officer Williams. I have real concern about this case
confirming some of Judge Wilhoit's negative opinions about Bureau of
Prisons' staff.
SIGNIFICANT FTCA CLAIMS:
FCI Butner - Tort Claim T-MXR-96-627 was filed by the mother (and her
attorney) of deceased inmate Fernando Zapata, Reg . No. 15664-057.
Zapata died on November 4, 1994 just minutes after his arrival at FCI
Butner from FCI Allenwood . This death was the subject of a focused
review report to the OGC . We may have some difficulty with the
promptness of care he received . This case involves FCI Allenwood and
FCI Butner.
MEDICAL MALPRACTICE CASES UPDATE:
Quality Assurance Review Procedures: Bill Burlington will be
participating with Dr. Subash Duggirala in a new program to evaluate
problematic medical malpractice claims. Dr. Duggirala has asked that
three to four Bureau attorneys participate with physicians in the Bureau,
and from medical schools in the Washington , D.C. area, in evaluating
cases that our legal and medical staff feel may present problems in
litigation . Dr. Duggirala has initiated this program with the hope that it will
offer the Bureau a quick, inexpensive, objective resource in evaluating
such claims , and hopefully, will also develop a bank of expert witnesses
who will assist us should we go to trial.

Dr. Duggirala was surprised and disappointed to hear that we are
considering signing a contract with AFIP for similar services. I expressed
my belief that we need AFIP until we have a viable alternative, and that a
goal for this new group, is to prove to Bureau legal staff that we no longer
need AFIP. I have suggested that Daryl Kosiak, and a member of the
Litigation Branch join me as regular members of this committee, and that
the final legal position be rotated among Bureau attorneys who are
stationed at our medical referra l centers.
FCI Butner - Matlock v. Reno. et aI., 1:CV-96-1102
FCI Butner recently received this FTC A medical malpractice claim,
transferred from the Middle District of Pennsylvania. The case alleges
governmental negligence against staff at FCI Butner for failing to provide
the plaintiff with the proper medication to control his narcolepsy. The
plaintiff, through counsel, claims that his injuries (a fall from a top bunk)
were directly caused by the lack of Ritalin.
SIGNIFICANT ADMINISTRATIVE REMEDIES:
FCI Manchester - The first remedy concerning determination of crime of
violence under VCCLEA referencing the Wiggins decision out of Alderson
has been filed. In fact, the remedy included a copy of the Judgment Order
in that case . We anticipate that we will receive more of the same over the
next several weeks.
NEW RFRA CASES AND UPDATES ON PREVIOUSLY REPORTED
CASES:
USP Terre Haute - Lacey v. Clark, This RFRA case was dismissed
based on failure to exhaust his administrative remedies. The issue raised
in the case was a challenge to the modification to the policy which no
longer permits groups to prepare food for their ceremonial meals.
AL TERNA T1VE DISPUTE RESOLUTION EFFORTS: None
18 U.S.C. § 3621(e) LITIGATION:
FMC Lexington - Fisher v. Beeler, 96-309, Inmate challenges the
interpretation of his current offense, Possession WITD Cocaine, 18 U.S.C.
§ 841 , with a two-point weapon possession enhancement, as a crime of
violence under 3621(e) .
FMC Lexington - Aday v. Beeler, we are still awaiting a final order on the

favorable R&R in this case. Petitioner challenges the BOP's classification
of 922(g) as a crime of violence. Petitioner did not file objections to the
R&R.
FCI Milan - Alston v. Pontesso, 96-CV-60393-DT, challenges the BOP
designation of Possession of Firearm by a Prohibited Person as a crime
of violence for purposes of eligibility for the drug program.
SIGNIFICANT NEW CRIMINAL REFERRALS SINCE LAST MONTH'S
REPORT:
FCI Memphis - Nathaniel Hamlett, Reg. No. 34233-060, was referred for
Possession of Narcotics (discovered in bar of soap).
Joe Rosser, Reg. No. 13209-076, was referred for allegedly assaulting a
civilian (a girlfriend illegally visiting him) on federal property at the Naval
Air Station, Millington, Tennessee on November 26,1996. The victim has
indicated she would like the Government to pursue this matter.
FCI Milan - On November 10,1996, inmate Ray, Reg. No. 21891-039,
assaulted inmate See, Reg. No. 03549-039 and as Officer Clark
attempted to intervene, Inmate Ray assaulted the officer who received
facial injuries. AUSA has indicated he will present the assault case in
conjunction with the current charge of assaulting a postal worker for which
inmate Ray has already been indicted.
UPDATE ON PREVIOUSLY REPORTED CRIMINAL MATTERS:
FCI Manchester - On November 1, 1996, inmate Sherwin Taylor was
sentenced in Federal court, London, Kentucky, for assault on
inmate/possession of a weapon. Taylor received a sentence of six
months to run consecutively to his current sentence.
On November 18, 1996, inmate Ricky Flowers pled guilty to introduction of
narcotics in the Eastern District of Kentucky. Sentencing is scheduled in
March of 1997.
Fel Ashland - Last month we reported three inmates had been indicted
on escape charges. The three inmates left the camp to meet their
spouses or significant others at a local hotel. On December 2, 1996, the
three inmates appeared before the Court and change their pleas to guilty.
The Court scheduled sentencing for January 3, 1997.
During the court proceedings, one defense counsel told Judge Wilhoit that
his client was in the hole and was being denied telephone and visitation

privileges with his wife. Defense counsel requested Judge Wilhoit assist
them in obtaining a telephone call or visitation since it was the holiday
season . Judge Wilhoit told the attorney that he did not have control ,
authority or influence over those people. Judge Wilhoit further said that
defense counsel would be better off in pursuing the matter himself
because if those people knew that he [Judge Wilhoit] was involved that
there is no telling what those people would do.
FCI Petersburg - U.S v. Raney, trial is set for today, in this criminal trial
for escape from the camp at Petersburg . Competency hearing was held
on November 15 and Raney was found competent to stand trial.
FCI Milan - former staff member Holmes, indicted for introduction of
contraband , had his trial postponed indefinitely due to the withdrawal of
his attorney.
SUCCESSFUL PROSECUTIONS OR ANY ACQUITTALS SINCE LAST
MONTH'S REPORT: None
REHABILITATION ACT: None

New Litigation Cases by Institution and Type
Received During the Month of November 1996
ALD

ASH

BEC

BUT*

CUM

LEX

MAN

MEM

MIL

MRG

BIV

0

0

0

0

1

0

1

0

0

0

FTCA

0

0

0

0

1

0

1

0

0

0

HC

0

0

2

1

0

1

1

1

0

2

OTH

0

0

0

0

1

0

0

0

0

0

TOT

0

0

2

1

3

1

3

1

0

2

New Litigation Cases by Institution and Type
Received Calendar Year to Date

•

ALD

ASH

BEC

BUT*

CUM

LEX

MAN

MEM

MIL

MRG

BIV

1

2

0

1

12

6

10

1

10**

1

FTCA

3

2

1

2

1

2

4

6

3

0

21

3

7

13

2

15

4

4

7

10

OTH

1

0

0

1

3

2

1

1

2

0

TOT

26

7

8

17

18

25

19

12

22

11

HC

* Represents the Complex
** One case subtracted because it was inadvertently counted twice.