Taser Hamilton Police Again Have Tasers Cincinnati Enquirer 2002
Download original document: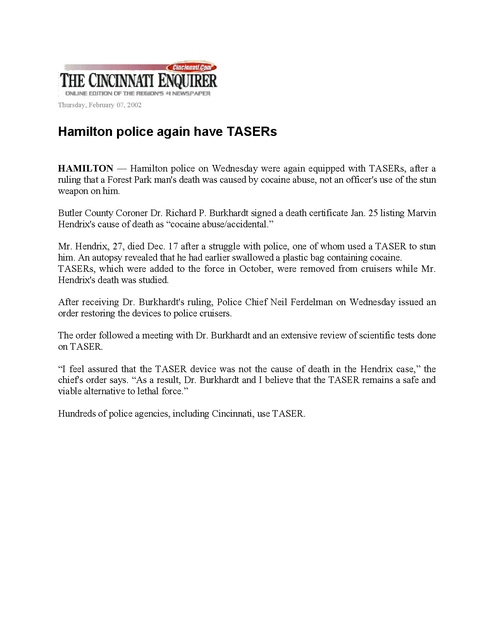 Document text
This text is machine-read, and may contain errors. Check the
original document
to verify accuracy.
Thursday, February 07, 2002

Hamilton police again have TASERs
HAMILTON — Hamilton police on Wednesday were again equipped with TASERs, after a
ruling that a Forest Park man's death was caused by cocaine abuse, not an officer's use of the stun
weapon on him.
Butler County Coroner Dr. Richard P. Burkhardt signed a death certificate Jan. 25 listing Marvin
Hendrix's cause of death as "cocaine abuse/accidental."
Mr. Hendrix, 27, died Dec. 17 after a struggle with police, one of whom used a TASER to stun
him. An autopsy revealed that he had earlier swallowed a plastic bag containing cocaine.
TASERs, which were added to the force in October, were removed from cruisers while Mr.
Hendrix's death was studied.
After receiving Dr. Burkhardt's ruling, Police Chief Neil Ferdelman on Wednesday issued an
order restoring the devices to police cruisers.
The order followed a meeting with Dr. Burkhardt and an extensive review of scientific tests done
on TASER.
"I feel assured that the TASER device was not the cause of death in the Hendrix case," the
chief's order says. "As a result, Dr. Burkhardt and I believe that the TASER remains a safe and
viable alternative to lethal force."
Hundreds of police agencies, including Cincinnati, use TASER.