Taser No Ia Univ Approve M26 2001
Download original document: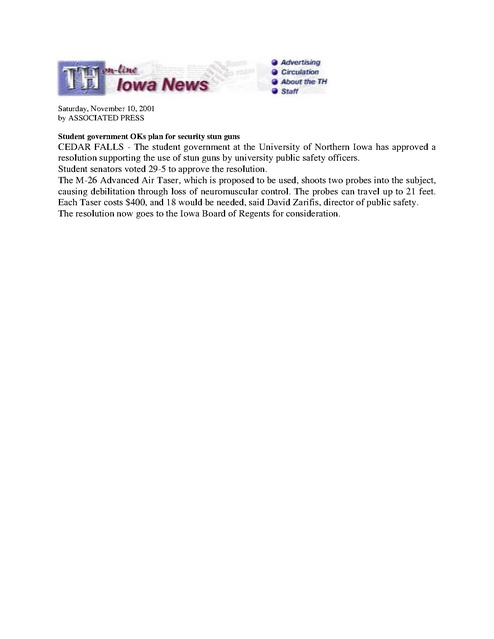 Document text
This text is machine-read, and may contain errors. Check the
original document
to verify accuracy.
Adve<tisM>g
•~ .-tisi19

Iowa. News
News
Iowa

a~ emu_
CirculsUon
a_rn.TH
a AbOut tile TH

0'~

SUiIt

Saturday, November 10, 2001
by ASSOCIATED PRESS
Student government OKs plan for security stun guns

CEDAR FALLS - The student government at the University of Northern Iowa has approved a
resolution supporting the use of stun guns by university public safety officers.
Student senators voted 29-5 to approve the resolution.
The M-26 Advanced Air Taser, which is proposed to be used, shoots two probes into the subject,
causing debilitation through loss of neuromuscular control. The probes can travel up to 21 feet.
Each Taser costs $400, and 18 would be needed, said David Zarifis, director of public safety.
The resolution now goes to the Iowa Board of Regents for consideration.