Taser Seattle Pd Manual M26 Revision
Download original document: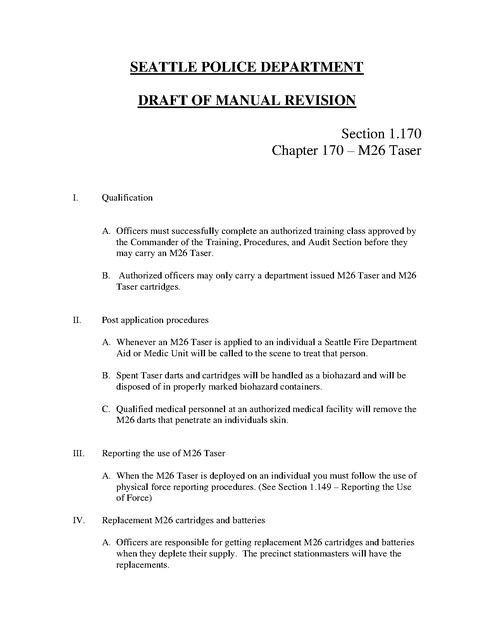 Document text
This text is machine-read, and may contain errors. Check the
original document
to verify accuracy.
SEATTLE POLICE DEPARTMENT
DRAFT OF MANUAL REVISION
Section 1.170
Chapter 170 – M26 Taser
I.

Qualification

A. Officers must successfully complete an authorized training class approved by
the Commander of the Training, Procedures, and Audit Section before they
may carry an M26 Taser.
B. Authorized officers may only carry a department issued M26 Taser and M26
Taser cartridges.

II.

Post application procedures
A. Whenever an M26 Taser is applied to an individual a Seattle Fire Department
Aid or Medic Unit will be called to the scene to treat that person.
B. Spent Taser darts and cartridges will be handled as a biohazard and will be
disposed of in properly marked biohazard containers.
C. Qualified medical personnel at an authorized medical facility will remove the
M26 darts that penetrate an individuals skin.

III.

Reporting the use of M26 Taser
A. When the M26 Taser is deployed on an individual you must follow the use of
physical force reporting procedures. (See Section 1.149 – Reporting the Use
of Force)

IV.

Replacement M26 cartridges and batteries
A. Officers are responsible for getting replacement M26 cartridges and batteries
when they deplete their supply. The precinct stationmasters will have the
replacements.

V.

Yearly Qualifications
A. Each authorized user of the M26 Taser will qualify with their weapon once a
year.
B. The qualification date will be published by directive at the start of each year.
C. Unexcused absences will terminate the authorization to carry the M26 Taser
until the qualification can be made up.