Taser Unintentional Disharge Injury Report 2007
Download original document: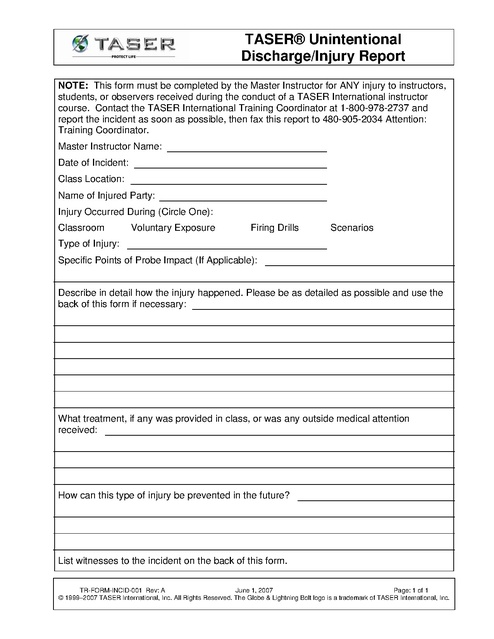 Document text
This text is machine-read, and may contain errors. Check the
original document
to verify accuracy.
TASER® Unintentional
Discharge/Injury Report
NOTE: This form must be completed by the Master Instructor for ANY injury to instructors,
students, or observers received during the conduct of a TASER International instructor
course. Contact the TASER International Training Coordinator at 1-800-978-2737 and
report the incident as soon as possible, then fax this report to 480-905-2034 Attention:
Training Coordinator.
Master Instructor Name:
Date of Incident:
Class Location:
Name of Injured Party:
Injury Occurred During (Circle One):
Classroom

Voluntary Exposure

Firing Drills

Scenarios

Type of Injury:
Specific Points of Probe Impact (If Applicable):
Describe in detail how the injury happened. Please be as detailed as possible and use the
back of this form if necessary:

What treatment, if any was provided in class, or was any outside medical attention
received:

How can this type of injury be prevented in the future?

List witnesses to the incident on the back of this form.
TR-FORM-INCID-001 Rev: A
June 1, 2007
Page: 1 of 1
© 1999–2007 TASER International, Inc. All Rights Reserved. The Globe & Lightning Bolt logo is a trademark of TASER International, Inc.