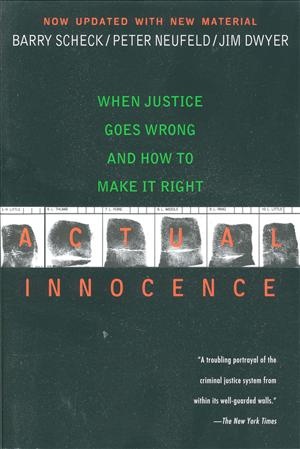 Actual Innocence: When Justice Goes Wrong and How to Make It Right
$17.99
Product is not currently in stock, shipping may be delayed.
407 pages. By Barry Scheck, Peter Neufeld, & Jim Dwyer.
NAL Trade (2003).


Actual Innocence is written with the authority Barry Scheck and Peter Neufeld have as the founders of a world renowned Innocence Project. The authors share their insights from helping to free dozens of innocent people from prison. Case histories demonstrate how erroneous eyewitness testimony, police fabrication or misplacement of evidence, the concealment of exculpatory evidence by prosecutors, inaccurate scientific tests and testimony, and judicial arrogance contribute to wrongful convictions.

Synopsis

Borrowing their title from Chief Justice of the Supreme Court William Rehnquist's statement that "actual innocence is not itself a constitutional claim," founders of the pro-bono Innocence Project Scheck and Neufeld and columnist Dwyer present a condemnation of the injustices of a court system that sends innocent people to death row. Through the stories of ten innocent men sent to jail, they discuss such problems with the system as faulty eyewitnesses, jailhouse snitches, and bad science, all the while championing the use of DNA sampling for exonerating the wrongly convicted. Annotation c. Book News, Inc., Portland, OR

From The Publisher

A nightmare from a thousand B-movies: a horrible crime is committed in your neighborhood, and the police knock at your door. A witness swears you are the perpetrator; you have no alibi, and no one believes your protestations of innocence. You're convicted, sentenced to hard time in maximum security, or even death row, where you await the executioner's needle.

Tragically, this is no movie script but reality for hundreds of American citizens. Our criminal justice system is broken, and people from all walks of life have been destroyed by its failures. But science and a group of incredibly dedicated crusaders are working to repair the damage.

In the last ten years, DNA testing has uncovered stone-cold proof that sixty-five completely innocent people have been sent to prison and death row. But even in cases where there is physical evidence, the criminal justice system frees prisoners only after a torturous legal process. Incredibly, according to many trial judges, "actual innocence" is not grounds for release from prison.

At the Innocence Project, Barry Scheck and Peter Neufeld have helped to free thirty-seven wrongly convicted people, and have taken up the cause of hundreds more. Pulitzer Prize-winning columnist Jim Dwyer has been covering innocence cases for a decade. In Actual Innocence, Scheck, Neufeld, and Dwyer relate the harrowing stories of ten innocent men--convicted by sloppy police work, corrupt prosecutors, jailhouse snitches, mistaken eyewitnesses, and other all-too-common flaws of the trial system--and tell of the heroic efforts to free them.
ISBN-10: 0451209826
ISBN-13: 978-0451209825