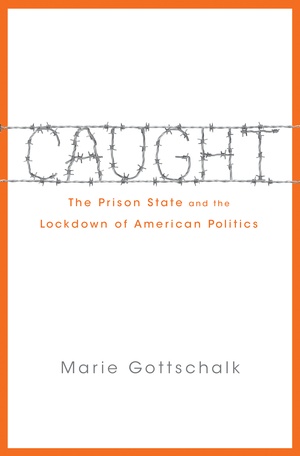 Caught: The Prison State and the Lockdown of American Politics
$28.95
Paperback, 496 pages. By Marie Gottschalk.
Princeton University Press (December 2014).
From The Publisher:
The huge prison buildup of the past four decades has few defenders today, yet reforms to reduce the number of people in U.S. jails and prisons have been remarkably modest. Meanwhile, a carceral state has sprouted in the shadows of mass imprisonment, extending its reach far beyond the prison gate. It includes not only the country's vast archipelago of jails and prisons but also the growing range of penal punishments and controls that lie in the never-never land between prison and full citizenship, from probation and parole to immigrant detention, felon disenfranchisement, and extensive lifetime restrictions on sex offenders. As it sunders families and communities and reworks conceptions of democracy, rights, and citizenship, this ever-widening carceral state poses a formidable political and social challenge.
In this book, Marie Gottschalk examines why the carceral state, with its growing number of outcasts, remains so tenacious in the United States. She analyzes the shortcomings of the two dominant penal reform strategies--one focused on addressing racial disparities, the other on seeking bipartisan, race-neutral solutions centered on reentry, justice reinvestment, and reducing recidivism.
In this bracing appraisal of the politics of penal reform, Gottschalk exposes the broader pathologies in American politics that are preventing the country from solving its most pressing problems, including the stranglehold that neoliberalism exerts on public policy. She concludes by sketching out a promising alternative path to begin dismantling the carceral state
From the Back Cover:
"This is the most comprehensive, synthetic, and compelling account of what is driving penal trends in America today. For contemporary scholars and activists, Caught is certain to become a common starting point for future debates about what direction policy reform and social activism should take."--Jonathan Simon, author of Governing through Crime: How the War on Crime Transformed American Democracy and Created a Culture of Fear
"[A]cademic but accessible, and it has an urgency to it. . . . A needed cry for justice."--Kirkus Reviews
ISBN-10: 0691164053
ISBN-13: 978-0691164052