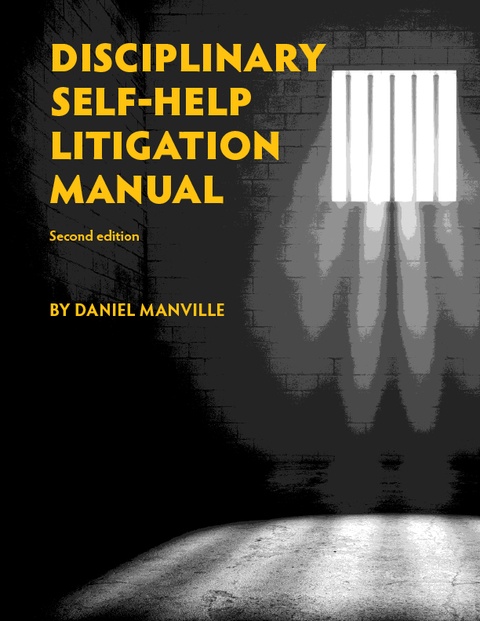 Disciplinary Self Help Litigation Manual
$49.95
Paperback, 355 pages. By Daniel Manville.
Prison Legal News Publishing (2015).
The Disciplinary Self-Help Litigation Manual, Second Edition, by Dan Manville, is the third in a series of books by Prison Legal News Publishing. It is designed to inform prisoners of their rights when faced with the consequences of a disciplinary hearing. This authoritative and comprehensive work educates prisoners about their rights throughout this process and helps guide them at all stages, from administrative hearing through litigation.
This invaluable how-to guide offers step by step information for both state and federal prisoners and includes a 50 state analysis of relevant case law. It is a specialized supplement to the Prisoners' Self-Help Litigation Manual, often referred to as the "bible" for jailhouse lawyers. This book proves to be just as essential for prisoners. While directed at pro se prisoner litigants it is extremely useful to lawyers whose clients are subject to penal disciplinary systems. It includes an extensive case law citation index. This important new edition is undeniably a vital tool and 'must have' for the serious prisoner rights litigator.
Reviews
Fighting a disciplinary ticket alone can be daunting. The Disciplinary Self-Help Litigation Manual, Second Edition is an essential tool for anyone facing this challenge. Written and published by people who have been there and defended unjustified accusations and successfully appealed adverse results, this book provides tools that are specific and direct. Disciplinary timelines are demanding. The step by step guidance that describes what is necessary to prepare for and present at the hearing is crucial. State-by-state information guides one quickly to relevant laws and regulations. This book will save time in every sense of the word. I recommend it to prisoners and lawyers as the most thorough and valuable resource on the topic. -- Brett Dignam
The stakes in prison disciplinary proceedings are high. If found guilty, prisoners may face prolonged solitary confinement, loss of important amenities like family visiting, and even forfeiture of good time credits, resulting in more time behind bars. To defend themselves effectively, prisoners need to know their rights. The Disciplinary Self-Help Litigation Manual, Second Edition is an indispensable resource, both for prisoners facing disciplinary charges and for lawyers assisting them. I recommend it highly. -- David Fathi
ISBN-13: 978-0-981938523