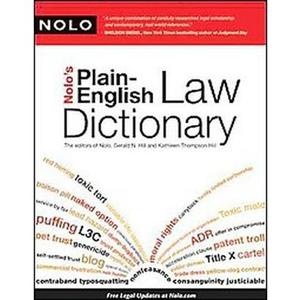 Nolo's Plain-English Law Dictionary
$29.99
Product is not currently in stock, shipping may be delayed.
477 Pages. (1st Edition: 2009). The Editors of Nolo, Gerald Hill, & Kathleen Thompson Hill.

From the Publisher:
Open the average law dictionary and chances are you'll feel more confused than before you read a word. Nolo's Plain-English Law Dictionary is different. From "abrogate" to "zero tape", we've cut down on the Latin and defined common (and some not-so-common) terms you can really use to understand and access the law.

Set aside those dusty, outdated law dictionaries! Written for the 21st century, this essential reference contains complete definitions of the legal terms you need today. If you're a law student, paralegal, accountant, small business owner or librarian -- anyone whose work or life touches the law -- this fully up-to-date A to Z guide puts access to the law into your hands.

Nolo's Plain-English Law Dictionary contains 3,800 plain-English legal definitions, including many newly coined terms you'll find online and off, such as "typosquatting" and "patent troll". Of course, if you need definitions for legal standards -- even when they're in Latin -- you'll find those here too. Plus, find a copy of the Constitution of the United States of America for your reference in the pages following the complete list of definitions.
ISBN-10: 1413310370
ISBN-13: 978-141331037