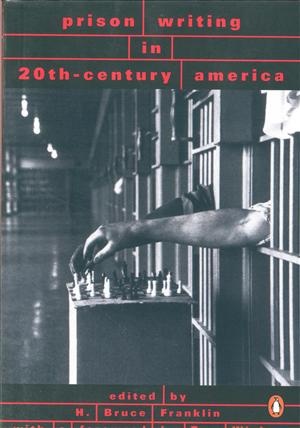 Prison Writing in 20th Century America
$16.00
368 pages. Edited by H. Bruce Franklin.
Viking Penguin (1998).


From Jack London to Iceberg Slim, George Jackson and Assatta Shakur, this powerful anthology provides a selection of some of the best writing describing life behind bars in America.

From The Publisher:

This unique collection dramatizes the history of the modern American prison and offers a harrowing vision of prison life in America today. H. Bruce Franklin, a leading authority on American prison writing, has gathered more than sixty selections from some of the most powerful works - memoirs, stories, novels, poems written in the last hundred years.

Reviews

From Publisher's Weekly - Publishers Weekly
Harrowing in their frank detail and desperate tone, the more than 60 selections in this anthology of writings about the prison experience in America pack an emotional wallop. According to Wicker's outspoken foreword, "prisons and the violence and despair they symbolize... are a blot on American life and history." The U.S. penal system contains a population greater than that of New Hampshire, and even the pretense of rehabilitation was long ago subsumed by the need to punish. Beginning with accounts of the victims of Jim Crow and Black Code laws in the segregationist South and going through the contemporary journalism of Dannie Martin and Mumia Abu-Jamal, these views from behind the bars should be required reading for anyone concerned about the violence in our society and the high rate of recidivism. Franklin, in his introduction, argues that the institution of slavery has its modern counterpart in penal servitude While he sometimes seems stuck in the clichs of a New Left rhetoric, he has done a fine job of rediscovering the prison writers of the 1920s (a period of real flowering among convict writers, supported by H.L. Mencken's American Mercury magazine) like Jim Tully, Chester Himes and Ernie Booth. In this context, the more famous works of writers such as Nelson Algren, Malcolm X and Jack Henry Abbot, gain a fuller resonance. The book also highlights writers, like Piri Thomas, who are alive today but neglected. If the test of an anthology is whether it makes the reader want to pursue the works of the authors it presents, this provocative volume definitely qualifies.
ISBN-10: 0140273050
ISBN-13: 978-0140273052