Fbop All Regions Employment Law and Info Quarterly Stats 1992oct-dec
Download original document: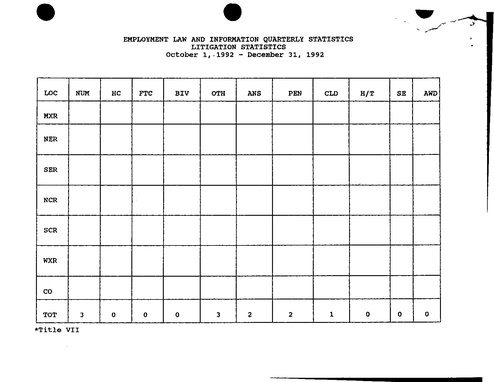 Document text
This text is machine-read, and may contain errors. Check the
original document
to verify accuracy.
e

•

I~

.--r

" .--"
.

EMPLOYMENT LAW AND INFORMATION QUARTERLY STATISTICS
LITIGATION STATISTICS
October 1,.1992 - December 31, 1992

LOC

NUM

HC

FTC

BIV

OTH

ANS

PEN

CLD

HIT

SE

AWD

MXR

NER

SER
I
I

I

NCR

SCR

WXR

CO
TOT

3

0

0

0

2

2

3
-

---~~

1

0

0

0

--

*Title VII

- - - - - - - - - - - - - - - - - -. . . . . . . . .1

..,

..

NARRATIVE (update)
Helen L. Archie v. William Barr, Civil Action No. 91-1585
Depositions of Sandra Hurst, Stanley Wexler, John Flynn, and Sandra
Parks were scheduled for November 23, 1992. These depositions were
rescheduled for December 4, 1992, due to a conflict in plaintiff's
schedule. The depositions did not go forward on December 4, 1992,
due to plaintiff's failure to provide the defendant with notices
of deposition. on December 7, 1992, the defendant received notices
of deposition and subpoenas for depositions of the above-named
individuals scheduled for December 11, 1992.
The notices were
legally defective under the local rules of the United States
District Court for the District of Columbia (D.C. Dist. R. 208).
The subpoenas were also defective under Fed. R. eiv. P. 45. No
depositions were held on December 11, 1992. The depositions were
rescheduled for December 17, 1992, but that date was cancelled
because of the holiday travel and leave plans of the employees who
were to be deposed. Defendant offered in a letter to the plaintiff
dated December 16, 1992, to reschedule the depositions for January
of 1993.

Adnan Hiaz Mir v. Federal Bureau of Prisons, 8 U.S.C.

§

1324b

Proceeding,
Case No. 92B00225

On October 7, 1992, complainant filed a complaint with the United
States Department of Justice Executive Office for Immigration and
Review, Office of the Chief Administrative Hearing Officer. His
complaint alleged that he was denied employment at the Federal
Correctional Institution (FCl) in Sheridan, Oregon because of his
citizenship status.
Mary Sullivan, Attorney, FC! Sheridan,
requested the assistance of the Employment Law and Information
Branch of the Office of General Counsel. On November 16, 1992,
respondent filed a motion for dismissal of the complaint pursuant
to 28 C.F.R. § 68.10. On November 17, 1992, respondent filed its
answer to the complaint.
James I. watts y. Director. Federal Bureau of Prisons, Civil Action
No.88-2824
Judgement for the Federal Bureau of Prisons was entered on November
18, 1992. Plaintiff filed a motion for a new trial on December 2,
1992.
On December 7, 1992, the Judge issued an order denying
plaintiff's motion.