Formerly Incarcerated Chef Plans to Revolutionize Ramen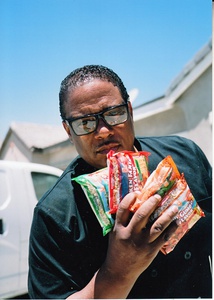 by Steve Horn
When Ron Freeman was released from prison in 1998, he returned to doing the two things he enjoyed the most: cooking and eating. He decided, after being incarcerated for nearly three years for drug possession at the Donovan Correctional Facility in San Diego, California, to put those passions to use and open a food cart in the Watts area of Los Angeles.
Starting with hot dogs and other popular street foods, he later founded a new business focused on the production of ramen instant noodles. Freeman learned from his time behind bars that ramen is one of the most popular items purchased from prison and jail commissaries.
"Ramen is a lifesaver," he said in an interview with Prison Legal News. "My time in there would've been so much harder if I ... couldn't eat the ramen."
High Sodium Content
Ramen noodles have long had a reputation as a cheap, albeit fairly unhealthy, food for people without many financial resources. Freeman – who now lives in Victorville, California – has produced several new varieties with 40 percent less sodium than other brands.
Competitor noodle companies, mainly Maruchan and Nissin, currently sell the majority of ramen in institutional commissaries. But they produce a product high in sodium, which is problematic because while it is more appetizing than typical prison food, prisoners suffer from high rates of diabetes, high blood pressure and heart disease, and high sodium intake can contribute to those conditions.
The UK-based organization Action on Salt reported in 2016 that a package of Nissin's chicken flavor ramen has more sodium than two McDonald's Big Macs, though the company has since reduced the sodium level. One package of Maruchan chicken flavor ramen contains 830mg of sodium per serving and there are two servings in each package – totaling 70 percent of the daily recommended salt intake.
It's not just sodium, though, with ramen having high amounts of saturated fat as well, which is the type of fat that can clog arteries and cause heart attacks. One package of Maruchan, for example, has 36 percent of the recommended daily amount of saturated fat. The Denver, Colorado-based weekly newspaper Westword has referred to packages of ramen noodles as "tasty little death traps."
Low Sodium Alternative
This is where Freeman, known as "Chef Ron," comes into play. In an interview with PLN, he said the ramen produced by his company, Mama Pat's Foods, is different from that of his competitors because it relies on spices, vegetable salt and dehydrated vegetables for flavoring. Freeman also mentioned he has three contracts to provide ramen to commissaries in correctional facilities, though he did not disclose which ones.
"If I'm going to make chicken fajitas, and I'm going to use bell peppers, onions and chicken and Mexican spices like cumin, chile powder, oregano and those flavors, the salt only plays a very small part in that entire recipe," Freeman noted when discussing his philosophy behind reducing the amount of salt, which is the hallmark of his company's ramen. "If you're eating chicken and it's just chicken, yeah, you're going to want to put salt on it because it's just chicken. But if you're making an alfredo dish and you've got sauce and garlic and all that, you don't need to have so much salt."
Ramen noodles are the most popular food item available for purchase in prisons and jails, and with smoking bans becoming increasingly common they have surpassed cigarettes as a form of currency, according to research by University of Arizona doctoral student Michael Gibson-Light. His study, titled "Ramen Politics: Informal Money and Logics of Resistance in the Contemporary American Prison," published in May 2018 in Qualitative Sociology, an academic journal, concluded that ramen has "emerged as the de facto form of informal money" behind bars, which he discovered during ethnographic research at an unidentified prison.
"Prisoners are so unhappy with the quality and quantity of prison food that they receive that they have begun relying on ramen noodles – a cheap, durable food product – as a form of money in the underground economy," Gibson-Light said. "Because it is cheap, tasty, and rich in calories, ramen has become so valuable that it is used to exchange for other goods."
"It's 'cause people are hungry. You can tell how good a man's doing [financially] by how many soups he's got in his locker," one prisoner interviewed during the study explained. [See: PLN, Aug. 2018, p.1].
Cooking ramen in prison or jail can be a challenge, as some facilities lack microwaves or hot pots. The Tennessee Department of Correction, for example, banned hot pots in 2014 – though microwaves are still available in most housing units. Sometimes hot tap water has to suffice.
"You put your noodles in [a container], add hot water, put the lid on, and then take it to your bunk and cover with bedding and pillow to hold in the heat. This method is usually pretty effective, and after 10 minutes or so you have your ramen," one former prisoner wrote on WikiHow.com.
Ramen's Long Reach
Ramen has become so popular that prisoners have fought over the noodle packages. In 2014, for example, in Minnesota's Otter Tail County jail, a brawl erupted between two prisoners over a disagreement about ramen, leading to one choking the other. In another incident at the Ward County jail in North Dakota, a prisoner attacked another and broke his jaw during a dispute over ramen, resulting in aggravated assault charges.
One unidentified prisoner at the East Mississippi Correctional Center amassed 400 packages of the instant noodles, according to a March 2017 news report.
"We can say, based on episodic seizures, especially during shakedowns, that a large quantity indicates the inmate is using the items for personal gain or in bartering, gambling or extorting," said Mississippi DOC spokesperson Grace Fisher. [See: PLN, Oct. 2017, p.63].
State prison systems buy massive amounts of ramen for their commissaries. According to an Invitation to Bid issued by the Louisiana Office of State Procurement in December 2017, just one facility, the Louisiana State Penitentiary, wanted to purchase 59,000 cases of ramen. The Alabama Department of Corrections sought to order over 2.6 million packages of Maruchan ramen in 2014, according to a Request for Proposal. And according to MySanAntonio.com, the Bexar County jail in Texas bought more than 1.1 million packs of ramen in 2017.
Gibson-Light told Prison Legal News that he sees growth potential for Freeman's new ramen product in institutional commissaries.
"During my research, I was struck by how important health and nutrition are to the nation's prisoners. Exercise is central to daily routines and the nutritional contents of food offerings is a regular topic of conversation," he stated. "Unfortunately – just like in other contexts of poverty – people behind bars cannot often afford to secure the healthiest options, even if they are available and desired. More often, healthy snack options are limited and things like fruits and vegetables are not even available through the commissary. So to provide a healthier version of ramen, which is central to prison cuisine, will be welcomed by prisoners, I think."
Next Steps
Freeman, for his part, said he plans to scale up production at Mama Pat's – named after his grandmother, whom he described as a skilled chef herself – and hopes to compete with the likes of Nissin and Maruchan in the ramen market. He is currently in discussions with prospective investors to produce and distribute Mama Pat's initial four ramen flavors: seafood gumbo, chicken taco, chicken fajita and lamb stew.
He further explained that he hopes to use his business platform as a means of providing skills to ex-prisoners to be food entrepreneurs in their communities.
"When you get out of prison or get out of jail, man, you really can't find work. That's one of the hardest things," Freeman said. "And I'm noticing that with this food revolution and culture that's out there now, it gives [former prisoners] a second chance" to build a successful career.
"I want to be able to purchase food trucks and lease them out to formerly incarcerated people and partner with them, but not make it so that they work with me. They would have their own business, their own menus, their own thing. But I guide them on how to get a corporation, how to get a bank, how to file their taxes and how to run their business legit," he continued.
Freeman also remarked he has a goal of opening a ramen production facility near the same neighborhood where he started his food service career several decades ago while working at a food cart in south central Los Angeles.
"I've already looked at the machinery, I've already talked to an architect to put together how the factory would look," said Freeman. "I'm going to go to Magic Johnson, Jay-Z or whoever and say, 'Hey man, I need $300 million to get this thing going and we're only going to hire people who have been in jail or don't want to go to jail.'"
Meanwhile, gourmet ramen has gone mainstream in restaurants, with ramen shops selling the noodle soups with upscale ingredients such as black sesame seeds, pork bone broth, soy marinated eggs, bok choy and smoked tofu, at $9 to $16 a bowl.
Sources: www.oxygen.com, www.theoutline.com, www.gibson-light.com, www.actiononsalt.org.uk, www.westword.com, www.kfytrtv.com, www.twincities.com, www.cfprd.doa.louisiana.gov, www.sfchronicle.com, www.link.springer.com, www.theramenrater.com
As a digital subscriber to Prison Legal News, you can access full text and downloads for this and other premium content.
Already a subscriber? Login